Bubble Poke™
A Funny and Addictive Bubble Breaker Game
Pattern games have become extremely popular as they are inherently addictive in nature while not being as difficult to play as some of the other games. Games like candy crush etc. have become popular because they are very easy to play at the start with progressing levels getting more difficult. The slow increase in difficulty ensures that the player gets a hang of the game and its rules before things start getting difficult. This keeps the user addicted as the wins keep coming with the challenges increasing slowly as time goes by. Bubble Poke is a bubble breaker game with a similar ideology though it has a more conventional layout and offers soothing yet challenging gameplay for its players.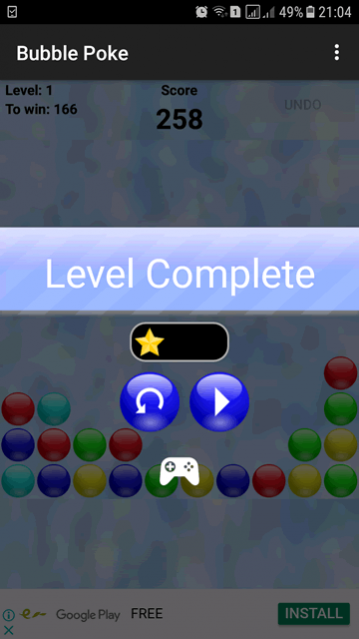 Bubble Poke starts off with a simple division between its gameplays. You can either choose the option of 'Levels' or the option of 'Classic'. In Levels, there are two kinds of gaming options. The first option is called Intro episode where the bubbles descend vertically while the second option is called Side Gravity where the bubbles move horizontally. There are multiple rounds in each of the two options and can keep you engaged for hours. The Intro Episode has a total of 7,900 rounds and you can collect a maximum of 23,700 stars. Similarly, the Side Gravity has a total of 7,900 rounds as well along with a maximum possible collection of 23,700 stars. The gameplays are different and therefore, offer unique challenges and challenge the gamer to come up with different strategies. On the other hand, 'Classic' is basically a gaming mode where there are no rounds. You need to score the highest amount possible within one given round. Your record would keep getting updated whenever you would improve your score.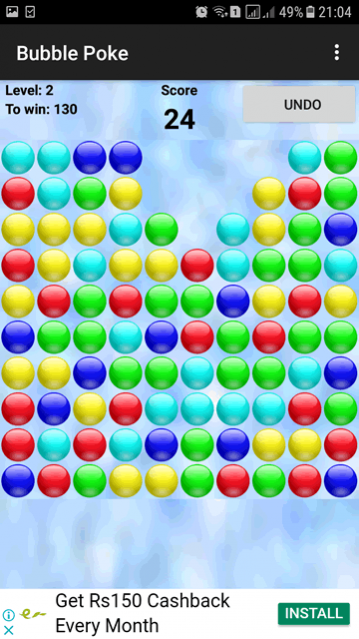 The bubble breaker game has a very simple and easy to understand gameplay. There are six different colored bubbles available. You need to match similar colored bubbles when they are together with one another in a horizontal or vertical fashion. Even if there are only two similar colored bubbles together and you tap on them, they would disappear and score you points. The bubbles in and around them would move horizontally or vertically based on whether you are playing Side Gravity or Intro Episode.
The strategy in the game is to ensure that you only match similar colored bubbles when a lot of them are present together. The higher the number of bubbles together when you decide to poke them, the more points you will score. If you would break bubbles when only two of them are together, you would only score two points. However, scores multiple when the number of bubbles together increases. You would obviously have to score a few two pointers in order to set the field but you would need to be intelligent and plan your way through the bubble breaker options in order to score high scores, collect three stars and move to the next rounds.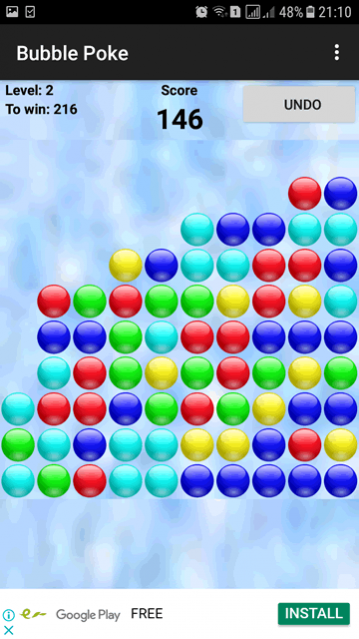 Bubble Poke's biggest achievement is that it has extremely simple gameplay and can be used by parents to keep their kids occupied as well. The quality of the game is that it is very addictive and it achieves this by ensuring that the challenges keep increasing in every round so that gamer keeps on playing to try and win the next challenge.
Features:
Minimalistic design and easy to understand interface
Nice in-game tutorial to get the player started
Over 10,000 gaming rounds available to keep the player occupied
Good variety in gaming options available
Simple and easy to understand scoring system
Conclusion:
Bubble Poke is a very easy and very addictive bubble breaker game. The gameplay's simplicity is what sucks you in while the increasing difficult of challenges keeps you addicted. It is a great game for kids and adults alike!
---
Add a review
Tell us your experience with
Bubble Poke™
RELATED PROGRAMS
Our Recommendations
---
---
---
---